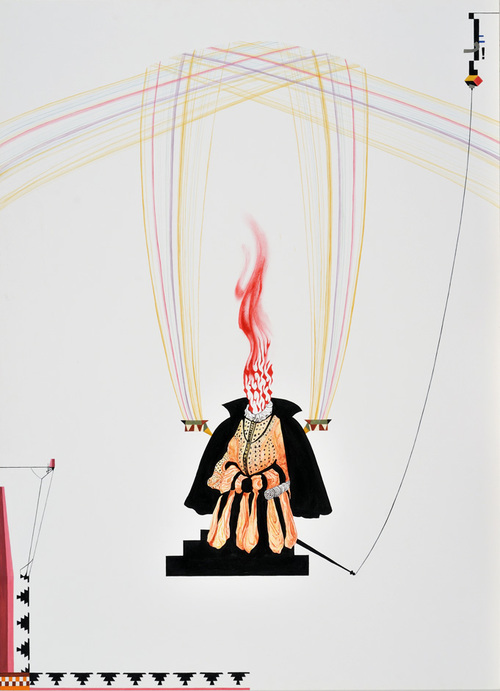 Tedman&Strand is a fine art brand co-founded by artist Kate Tedman (b.1979, UK) and artist/designer Samantha Strand (b. 1986, USA). They currently create works while traveling between Camogli, Italy and Joshua Tree, California USA.
Tedman and Strand joined forces in late 2013. Both came from collaborative backgrounds with foundations in various and divergent worlds including interior and graphic design, fine painting, sculpture, building restoration and social practice, with works that have been shown at the DeYoung Museum, Yerba Buena Center for the Arts, and Gallery Wendi Norris in San Francisco, Leila Heller Gallery and The Aldrich Contemporary Art Museum in New York, and the Dubai International Finance Center, UAE.
Tedman&Strand produce collections of work that explore the lust for romanticism within our present reality of science fiction, as well and celebrate the canonization of the failed, historic, and antique within technological times. Their current collection consists of hand-swen silk tapestries and painted works on paper.
KATE TEDMAN
Selected Solo Exhibitions
2012
Ripped Seam and Other Delights, Leila Heller Gallery, New York, NY
2011
Never Even, Frey Norris Contemporary & Modern, San Francisco, CA
One Plus One Minus One, The Aldrich Contemporary Art Museum, Ridgefield, CT
2010
Bug War Over Two Blue Mountain, Frey Norris Gallery, San Francisco, CA
2007
Stories for Bad Children, Frey Norris Gallery, San Francisco, CA
2005
The Wages of Sin in Specimen, Frey Norris Gallery, San Francisco, CA
People Put Together, Albemarle Gallery, London, England
2004
Big People, Little People, Frey Norris Gallery, San Francisco,CA
2003
Familiar Faces and Falls from Graces, Frey Norris Gallery, San Francisco,CA
2001
Apart Gallery, London, England
Group Exhibitions
2012
The Young Collectors Exhibition, Leila Heller Gallery, New York, NY
2011
Pangea: Art at the Forefront of Cultural Convergence, Frey Norris Contemporary & Modern, San Francisco, CA
2009
Echo: Eight San Francisco Artists Respond to Surrealist Masterworks, Frey Norris Gallery, San Francisco, CA
Flaming Furbelows, Johansson Projects, Oakland, CA
 2006
The Art of Survival, Curated by Kimberly Johansson, ABCo Art Space, Oakland, CA
 2005
Re-presenting Representation VII, Arnot Art Museum, Elmira, NY
Western Biennale of Art, John Natsoulas Center for the Arts, Davis, CA
What is Realism? Curated by Edward Lucie-Smith, Albemarle Gallery, London, England
Love For Sale, Bankside Gallery, London, England
2004
Masur Museum of Art, Monroe, LA
 2003
Discerning Eye, The Mall Galleries, London, England
Combined Talents, Florida State University Museum of Fine Arts, Tallahassee, FL
2002
Modern Myth, Hespe Gallery, San Francisco,CA
Beaux and Eros, Vorpal Gallery, San Francisco,CA
 2001
Michael Martin Galleries, San Francisco,CA
Luminous Wonders of the Electronic World, New Langton Arts, San Francisco,CA
Apart Gallery, London, England
Special Projects and Experiences
 Guest Panelists, The Commonwealth Club on California, forum on Emerging Artists, 2005
Art 26 – Tsunami Relief Exhibition, The Westbourne Studios, London, England, 2005
The Jackdaw magazine, April 2005
Selected Press
Mojeh Magazine "Art Dubai 2012" March 2012, UAE
Elle Preview, "For Art's Sake" March 2012, UAE
Outlook Business, "Art Break" February 2012, USA
New York Times, "The Fruits of Collaboration" November 2011, USA
COMPANY, "30 Under 40 Emerging Art Mavens," June 2011, USA
The National, Abu Dhabi, "Kate Eric: Watch this Space" 2010, UAE
El Mundo "Kate Eric: Art Dubai: El Arte de Oriente Proximo" 2010, Spain
Reuters, "Kate Eric: Dubai Art Fair Upbeat Despite City's Debt Woes", 2010
Refraction Art, "Stuff Going On: an interview with Eric from Kate Eric," October 2010, USA
Time Out Dubai, Kate Eric  "Art Dubai; What the Regional Collectors Were Buying," April 2010, UAE
San Francisco Chronicle, "96 Hours"  —  Kate Eric Bug War Over Two BLue Mountain, April 2010, USA
San Francisco Chronicle, Review of Bug War Over Two Blue Mountain, April 2010, USA
Art Scene, "Something Special I Interview with Kate Eric,"  April 2010, UAE
San Francisco Bay Guardian, Review of Flaming Furbelows, March 2009, USA
Art Forum, Review of Art Dubai, March 2009, USA
Art in America, Review of Stories for Bad Children, May 2008, USA
Art News, Review of Stories for Bad Children, March 2008, USA
Artweek, Review of Stories for Bad Children, January 2008, USA
SF Weekly, Review of Stories for Bad Children September 2007, USA
Art Knowledge News, review on Stories for Bad Children, September 2007, USA
Art Business, Review on Stories for Bad Children, September 2007, USA
Jackdaw Magazine, April 2005, UK
SN & R, Review of Western Biennale of Art, 2005, USA
Eyewitness News (CBS), "Inside City Limits" TV Interview on Wages of Sin in
Specimen, November 2005, USA
SF Gate, Review of Big People, Little People, May 2004, San Francisco USA
Eyewitness News (CBS) TV Interview on Big People, Little People, May 2004, USA
SF Weekly, Big People, Little People, May 2004, San Francisco USA
ARTNews, Review of Big People, Little People, May 2004, USA
Collections
Dubai International Finance Center, Dubai
De Young Museum, Fine Arts Museums of San Francisco, San Francisco, CA
The David Roberts Foundation, London
SAMANTHA STRAND
solo exhibitions
2014      
"THE HEAT" @ Hatch Gallery, Oakland, CA
2010  
"RIO BABE INTERNATIONAL presents THE WORLD CUP 2010" @ Hatch Gallery, Oakland, CA, collaboration with Kirby McKenzie
"RIO BABE INTERNATIONAL presents MI PUEBLO" @ North/South Gallery, Oakland, CA, collaboration with Kirby McKenzie
design
2012-14  
Kronnerburger : branding and graphics
2013  
DUENDE Restaurant & Bodega : branding, graphics and interior
2012      
Starline Social Club : branding and graphics
group exhibitions 
2014      
Summer Show @ Gallery Wendi Norris, San Francisco, CA
2011  
BAY AREA NOW6 @ Yerba Buena Center for The Arts, San Francisco, CA
2009      
"Geolization" @ Mother's Cookies Lofts, Oakland, CA
"While It Lasts" @ Hatch Gallery, Oakland, CA
"Oaxifornia 2009" @ Biblioteca Henostrosa, Oaxaca, Mexico
"Best of Oaxifornia" @ Tienda Q, Oaxaca, Mexico
2008    
"Detroit Urban Farms Benefit Show" @ The Ann Arbor Art Center, Ann Arbor, MI
"Recycled Show" @ Rock Paper Scissors, Oakland, CA
"Cityscapes" @ Rock Paper Scissors, Oakland, CA
2007
"Stewart Randolph F/W Collection" Ann Arbor, MI
"When I Think About You" @ The Slusser Gallery, Ann Arbor, MI, collaboration with Cassie McQuater
2006  
"Remnants from Passage" @ Work Gallery, Ann Arbor, MI
"Smörgåsbord: Raise Your Fork" @ Work Gallery, Ann Arbor, MI
selected performances, installations & events
2011  
"Sha'da Ouaismec – LES YEUX AFFAMES" @ Hatch Gallery, Oakland, CA, conceptual dinner : collaboration with Adam Hatch
2010      
"RIO BABE INTERNATIONAL presents LOS RAKAS" Art Murmur, Oakland, CA
RIO BABE INTERNATIONAL presents "REAL SPACE with JOHN" McNally's Pub, Oakland, CA, curated lecture and dinner
"RIO BABE INTERNATIONAL presents Noche de Pelicula en Tlacochahuaya", double feature with popcorn, Oaxaca, Mexico, collaboration with Raul Cabra
2009      
"EAT HERE" Oakland, CA, reoccurring street corner restaurants
"The Party Goes on Forever" Pie Ranch, Davenport, CA, themed dinners
curations
2010-13
Starline Social Club events, dinners and performances
2012    
"Irwin Luckman- Sculptures from 1940-2010" @ Hatch Gallery, Oakland, CA
"Juan Marcos- Recuerdo Guatemala" @ Hatch Gallery, Oakland, CA
2009     
"Yo! Perfect World" @ North/South Gallery, Oakland, CA
residencies
2011  
Love & War Marketing and Branding Firm, New York City, NY
2010  
La Ex-Hacienda de Guadalupe, Oaxaca, Mexico