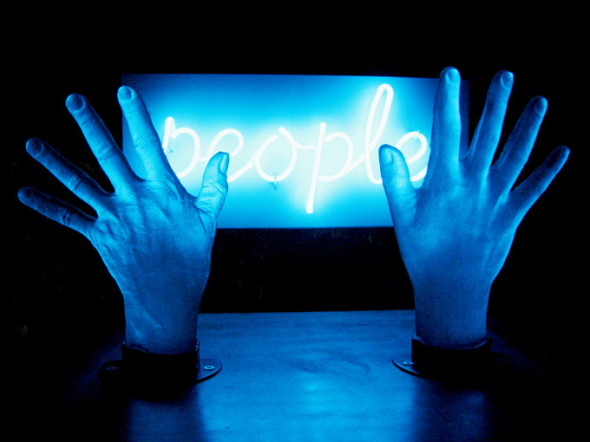 Federica Marangoni, a Venetian artist and designer, working internationally has researched on various materials and technological media throughout her career. Alongside the sculpturing activity, following a precise professional and cultural choice, her design production has grown and developed in a very eclectic way toward all areas of communication. In 1970 she sets up in Venice her own design studio: Fedra Studio Design. In the same year she begins to use and experiment with glass working with continuous frequency in many Muranese furnaces. She creates both design objects for the production, as well as glass sculptures and large installations in which the technological media as video and neon light combined with glass make her work unique in the panorama of contemporary art.
From the middle Seventies the use of electronic technology will always continue to be the way of expression in Marangoni's work.
From 1976 to 1989 she is assistant professor of the Dept. of Art and Art Education at New York University. She holds seminars at NYU and Summer courses in Venice with a workshop on glass. She also holds lectures and courses in many universities in the United States and cultural centres: Wayne State University, Detroit, Michigan (1977); Centre for Creative Studies, Glass Dept. , University of Art and Design, Detroit, Michigan (1979); Patterson State College, N.J. (1978); Columbia University, New York, NY (1978); Parson School of Design, Altos de Chavon, Dominican Republic (workshop, November 1984); Pratt Institute, New York, NY (1995); Virginia Beach Art Centre (1996). These last lectures focus on a theme Marangoni has long been inquiring: "Art, Art&Craft, Design: confrontation, analysis and interactivity".
Federica Marangoni has exhibited in many museums and international shows: MoMA (New York 1980), Musée des Arts Décoratifs (Losanne 1988/92) Museum Bellerive (Zurich 1988), Palazzo dei Diamanti (Ferrara 1980/1983), Palazzo Dugnani (Milan 1984), Hara Museum (Tokyo 1990), Kunstmuseum (Dusseldorf 1990), La Biennale di Venezia (Ve 1971/80/95/97/ 2011), Hivernacle (Ajuntamient de Barcelona 1989), Holly Salomon Gallery (New York 1995), Centre for the Arts (Virginia U.S.A. 1996), Palazzo Ducale 'Aperto Vetro' (Venice 1999), Skulpturen-Glaskasten Museum Marl (DE – 2000), International Biennale of Electronic Arts: Art and Communication (Rome), Ernsting Stiftung Alter Hof Herding (Coesfeld, Germany), "Global Art Glass Triennial" (Borgholm Slott, Öland, Sweden), Peggy Guggenheim Foundation (Venice, 2001), CAC Ticino (Bellinzona, CH), Remy Toledo Gallery (New York, 2005), Italian Cultural Institute (Madrid, 2006), Castello Sforzesco (Milan), Carnagie Museum of Art (Pittsburgh, USA), Villa Croce Museum (Genoa), Italian Cultural Institute (New York, USA), 54th Contemporary Art Biennale Exhibition in Venice, Italian Pavilion.